Summary
What a Year: 2022 proved to be a transitioning year in real estate, with interest rates nearly doubling and inventory increasing from two weeks to two months in most counties… sales went from a frenzy to a crawl.
Buyer Demand for Homes Still Exists: There continues to be pent up demand from buyers and low inventory in many counties. The Northwest MLS report shows about 2.1 months of inventory at the end of December. Inventory should continue to increase throughout the year.
Increasing Home Prices Have Stalled: Home prices are forecasted to be flat or drop slightly throughout 2023. Last month, the median sales price was $570,000, down $2,900 (-0.51%) from the year-ago figure of $572,900. 
Interest Rates Stabilizing: Rates are starting to slowly settle and are expected to drop slightly this year. We do NOT expect a return to rates below 5% anytime soon. 
For Those Considering Buying: Know that there are loan options out there that provide lower interest rates based on criteria such as strong credit and employment, first-time homebuyers, or those willing to opt for an adjustable rate mortgage. Check with your trusted mortgage lender to discuss possible lending options that best support your real estate goals.
Details
The MLS report for December shows continued growth in the number of active listings compared to the same month a year ago, but sharp drops in the number of pending and closed sales. Last month's prices for single-family homes and condominiums that sold across the 26 counties in the report dropped 0.51% from twelve months ago, marking the first year-over-year price decline since March 2012.
Year-over-year prices for last month's sales of single-family homes and condos (combined) declined in 17 counties and rose in nine counties. The median sales price was $570,000, down $2,900 (-0.51%) from the year-ago figure of $572,900. Last year's median price overall peaked in May 2022, at $660,000.
The median price for single-family homes (excluding condos) that sold last month was $587,500, down 0.42% from a year ago when it was $590,000. Condo prices edged up last month compared to the same month a year ago, increasing from $435,000 to $440,000 for a gain of 1.15%.
Brokers added 2,980 new listings to inventory last month. That total was 1,637 fewer than the number added during December 2021 (4,617).
Sellers accepted 4,017 offers from buyers, down about 31% from the year-ago volume of pending sales (5,850).
At month-end, buyers could choose from 9,475 active listings, nearly three times as many as a year ago when 3,240 homes and condos were offered for sale area-wide.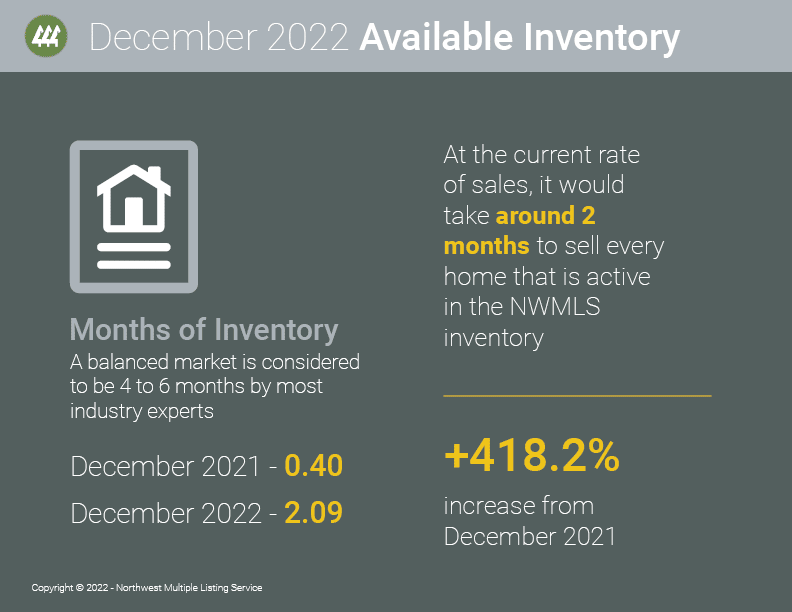 The Northwest MLS report shows about 2.1 months of inventory at the end of December, marking the fourth consecutive month with at least eight weeks of supply. Six counties, including King, Kitsap, and Snohomish, still have less than two months of supply. Only four of the 26 counties in the NWMLS service area have five months or more inventory.
In Kitsap County, where there is 1.78 months of supply, brokers added 172 new listings to inventory during December, 70 fewer than the same month a year ago. Pending sales (241 total) outgained new listings by 69 transactions.
Several Northwest MLS representatives who commented on December activity expect prices to soften this year.
Freddie Mac reported mortgage market activity "significantly shrunk over the last year" as high rates continued to weaken the housing market. The government sponsored enterprise (officially named the Federal Home Loan Mortgage Corp.) believes homebuyers are waiting for rates to decrease more significantly. With lower rates expected and inflationary pressures easing, Freddie Mac said "a strong job market and large demographic tailwind of Millennial renters will provide support to the purchase market. Moreover, if rates continue to decline, borrowers who purchased in the last year will have opportunities to refinance into lower rates."
As we settle into a more balanced market, it's important for you to hire a professional real estate advisor with experience. Whether buying, selling, or investing in real estate, be sure to utilize the expertise, talent, and professionalism of our trusted real estate team, The Goelzer Home Team.
Let us know how we can help you achieve your real estate Wants, Needs, and Dreams!
Data
*Information and statistics compiled and reported by the Northwest Multiple Listing Service.